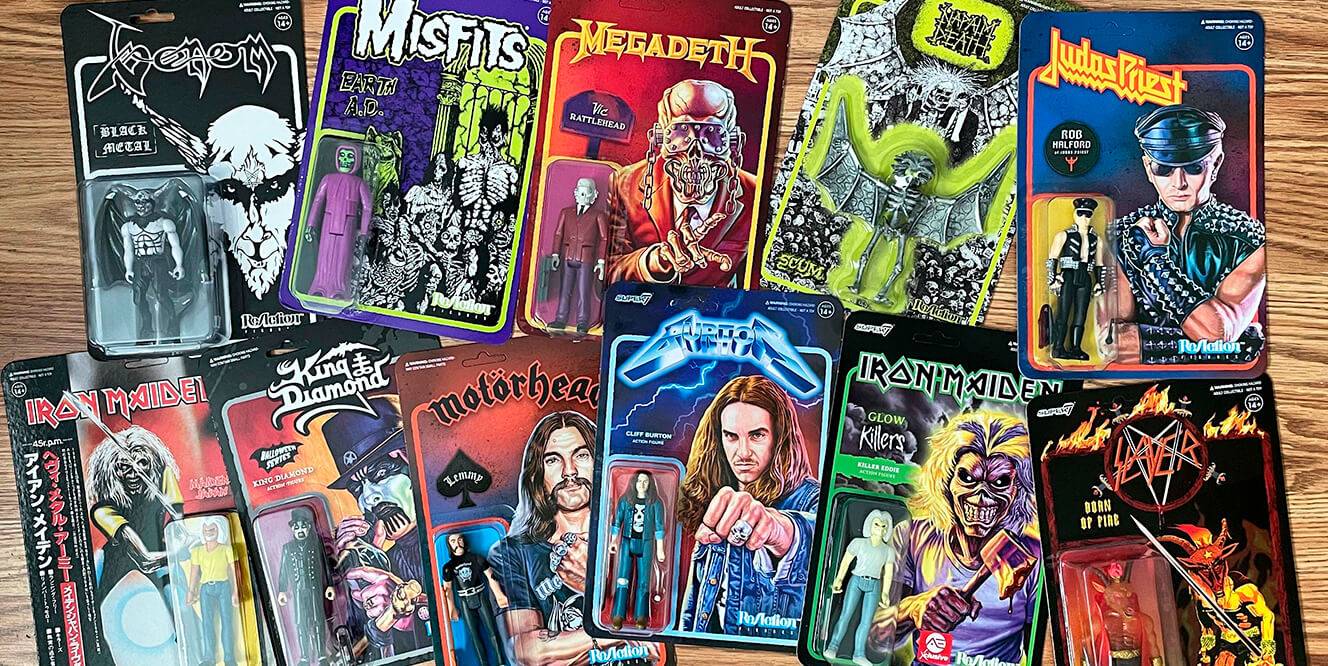 Super7 Spotlight: Brian Lew / Cliff Burton Collaboration
Super7 has released many music collaborations to date, but none has been more special than the one with the family of legendary heavy metal icon Cliff Burton. We spoke with Brian Lew of the Super7 E-Commerce and Marketing team about how this partnership came to be.
How long have you been at Super7 and were you familiar with Super7 before you started here?
I started with Super7 at the beginning of 2016 as employee #3 in the office. I was very familiar with the company dating back to the mid-2000s when a friend introduced me to the Super7 world of Japanese kaiju vinyl figures. That's when I first met Brian Flynn and first visited the original Super7 store that was in Japantown in San Francisco.
What is your favorite part about working on Cliff Burton?
I grew up around the Bay Area Thrash Metal Scene of the 80s. Cliff was both a hero and a friend of mine in real life. I saw him play with his first band (Trauma) and was also at his very first rehearsal and his first show with Metallica. I saw him with the band around a dozen times. The Super7 collaboration with the Burton Family is very personal for me as I became friends with them and his father Ray in later years. Also, proceeds from the sales of all our Cliff figures benefits his family's Cliff Burton Music Scholarship Fund that supports music students in his hometown of Castro Valley, California.
From the Brian Lew Archives: Back in The Day
How were the designs of the Cliff Burton ReAction Figures and ULTIMATES! Figure decided on?
My role in the Cliff Burton collab is being the main contact with his family and coordinating things when needed between them and our Licensing and Creative teams. Also, because of my history with Cliff, our designers consulted with me on both the ReAction Figures and ULTIMATES! designs.
For the Cliff ULTIMATES! figure we wanted to capture him in all his blue denim glory from the iconic hometown Day On The Green performance in Oakland from 1985. I was at that show and it's something that every Cliff fan knows about. I think our 3D Design Team nailed Cliff's different looks accurately, from his onstage ferocity to his offstage demeanor.
Also, one of the accessories is a hammer which fans associate with the cover of the Kill 'Em All album. However, in the early days Cliff carried a hammer with him in real life to take out and destroy things when he felt the need. True story! In addition, the Misfits gave us permission to use the Fiend Skull on Cliff's t-shirt to complete the accuracy of his ULTIMATES! figure.
Our 2D Design Team further enhanced everything with packaging inspired by the same 1985 era of the figure. They really captured the attitude and personality of Cliff to complete the presentation.
Do you have a favorite Super7 project so far?
Next to Cliff, the Paul Baloff ReAction Figure is my favorite. Cliff and Baloff are the twin icons of the 80s San Francisco Bay Area Thrash Metal Scene, so for Super7 to pay tribute to both of these old friends is amazing to me. Also, the fact that legendary heavy metal artist Ed Repka did the original card art for them is something metal fans should appreciate!
Cliff Burton and Paul Baloff (Photo by Harald Oimoen)
We also made a special edition of the Paul Baloff ReAction Figure to commemorate the 20th Anniversary of his passing. It came with a new 14-page fanzine I edited that was inspired by the fanzine I contributed to as a kid here in San Francisco back in The Day. The original Metal Mania did a Cliff tribute issue when he died. Our version of Metal Mania all these years later was meant to be the tribute Baloff never got. My old friend Ron Quintana, who did the original fanzine, contributed which made it a full circle moment.
Dream Music project?
Super7 has already done a lot of the heavy metal on my bucket list (Eddie of Iron Maiden, Lemmy and the Warpig of Motörhead, King Diamond, Black Metal pioneers Venom) but there are some new things in development that I'm stoked about! One of them is being announced soon and it will be like a rainbow in the dark.
Is there something I didn't ask you that you would like to add?
The inspiration behind many of Super7 ReAction Figures and ULTIMATES! is that they are "WHAT IF" things: 
"WHAT IF you walked into a toy store in the 80s and there were Iron Maiden and Cliff Burton action figures on-shelf next to Star Wars action figures?"
That alternate universe exists with Super7!
---
Brian Lew
E-Commerce and Marketing
Resident Metal Guy