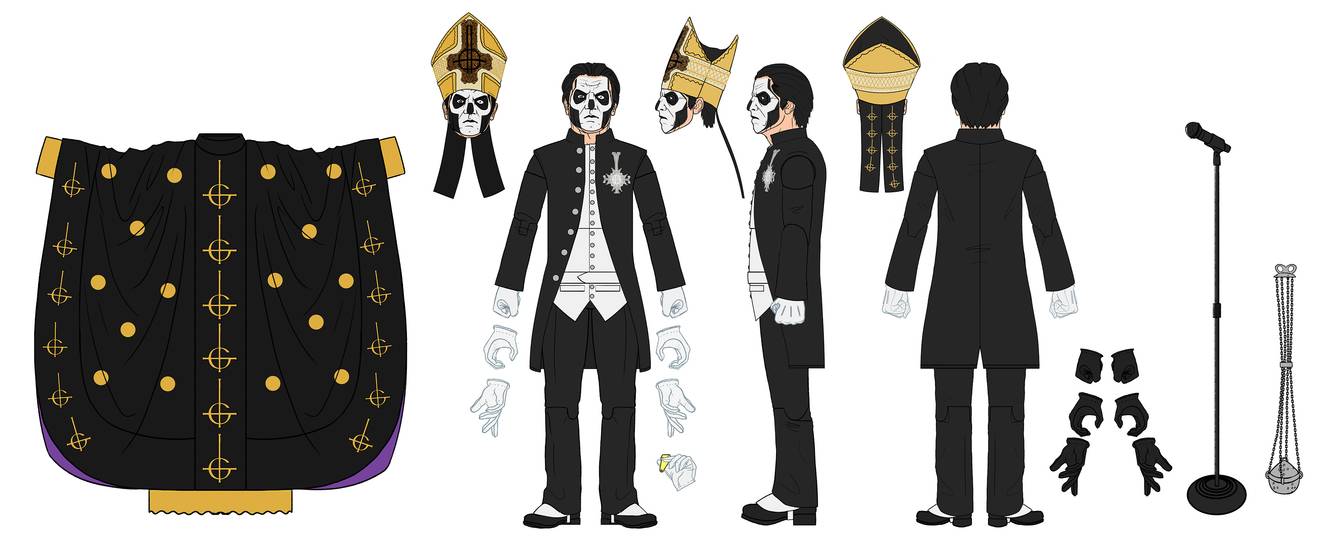 Super7 Spotlight: Kyle Wlodyga / Ghost
Super7's music collaborations have been anchored by some of our favorite bands. One of those bands is hard rock's most mysterious band Ghost! We chatted with Associate Art Director Kyle Wlodyga who revealed what it's been like working on these unholy projects. 
The first Super7 x Ghost figure was released in 2019.
How long have you been at Super7 and were you familiar with Super7 before you started here?
I've been with Super7 for a little over 4 years now, I started in February of 2019. Before working here, I had heard of them briefly, mostly for their work on Master of the Universe. It was on The Toys That Made Us that I first saw Brian Flynn and heard the name "Super7."
What is your favorite part about working on Ghost?
I've been a fan of Ghost since I first saw them live in 2015, to me, their stage presence and live performances are second to none. Being able to design figures in multiple scales for my favorite band, and replicating those amazing stage shows on my shelf is a total dream come true.
What was your first Ghost project?
My first Ghost project was the ReAction Figure of Papa Emeritus III. I interviewed with Super7 at DesignerCon 2018, and Ghost came up during my conversation with Brian Flynn (I was wearing a Ghost shirt of course). I said "You guys should make figures for Ghost!" and he said "We already are!" I asked to see it and he showed me images of the sculpt on his phone, and without thinking I started critiquing the sculpt, trying to make it more accurate to the character. I walked out of that interview thinking I totally bombed it, but I got a job offer after that and the rest is history. One of the very first things I did in the office was implementing those changes I called out during my interview.
Papa Emeritus III ReAction Figure (2019)
How were the accessories for each Papa Emeritus selected?
Ghost's shows are like no other, so I wanted to include everything you need to have your own "rituals" on your shelf. Such as a thurible to burn incense, a mic stand, multiple hands, and swappable soft goods vestments so your Papa figure can do a costume change during a set. One of the best parts about each Papa's costume design is they all have their own signature accessories: Papa Nihil has his saxophone, Papa II has the Grucifix Ferula (Staff), and for Papa III we HAD to give him his kazoo from the Unholy/Unplugged tour!
Are there different challenges with creating the different Ghost releases?
Absolutely. When I first got the assignment to design a Ghost ULTIMATES! Figure, I had this crazy idea to make one figure that could turn into Papas I through III and Cardinal Copia, depending on what robe / head you had on the figure. When you get an assignment as cool as that, it's hard not to throw in everything you've ever dreamed of into the design. It was the band's management who had us take a step back, and said why not make one figure per Papa, but include different accessories for costume changes. That's just one example of how this Licensor has been super helpful and collaborative.
What has been your favorite Ghost project so far?
Honestly I think the most recent release, the Papa Emeritus III ULTIMATES! Figure, is my favorite. I've been wanting to make Papa III in ULTIMATES! from the very beginning. Every Ghost fan has "their" Papa, the man behind the mic when they first discovered the band. Papa III is "my" Papa, and has been ever since I saw them that night in San Diego in 2015 during the Black to the Future tour. The Nameless Ghoul ReAction Figures are a very close second. Getting the entire band on your shelf felt really, really great.
Papa Emeritus III ULTIMATES! concept drawing.
Papa Emeritus III ULTIMATES! pre-production digital sculpt.
Papa Emeritus III ULTIMATES! Figure (2023)
Do you have a dream Ghost project?
I'm super lucky to have already been able to make a lot of my Ghost dream projects come true, including the Mummy Dust Papa III ReAction Figure and the Ghostferatu ReAction Figure from the If You Have Ghost EP. But there's one project I've always wanted to do: A Year Zero playset for Ghost ULTIMATES! It would be similar to some of the music figure box sets from the late 90s / early 2000s. It would come with the entire band, their instruments, gear, backdrop, lighting, and scaffolding all in one box.
As I've designed more and more music ULTIMATES!, specifically the Heavy Metal figures, I've kind of become obsessed with collecting as many 1/12 scale musical instruments and gear as I can. As I mentioned before, with ReAction Figures it feels really, really great to get the entire band on your shelf, and that would only be more awesome in ULTIMATES! 7-inch scale. Oh, and I didn't even mention the coolest part: The Playset would come with flame effect pieces for the true Year Zero experience. "Hell Satan, Archangelo!"
Is there something I didn't ask you that you would like to add?
I just want to say thanks to all the fans who have supported this line so far, none of this would be possible without their help. We have so many more characters we can do, let's keep collecting so we can expand the Super7 Ghost line into even cooler characters: Nameless Ghoul ULTIMATES!, Cardinal Copia, Papa Emeritus Nihil, Papa IV, Sister Imperator, Mr. Saltarian... Satan only knows the sky is the limit!
Check out the Super7 Ghost Collection HERE!
Shop the Ghost Collection