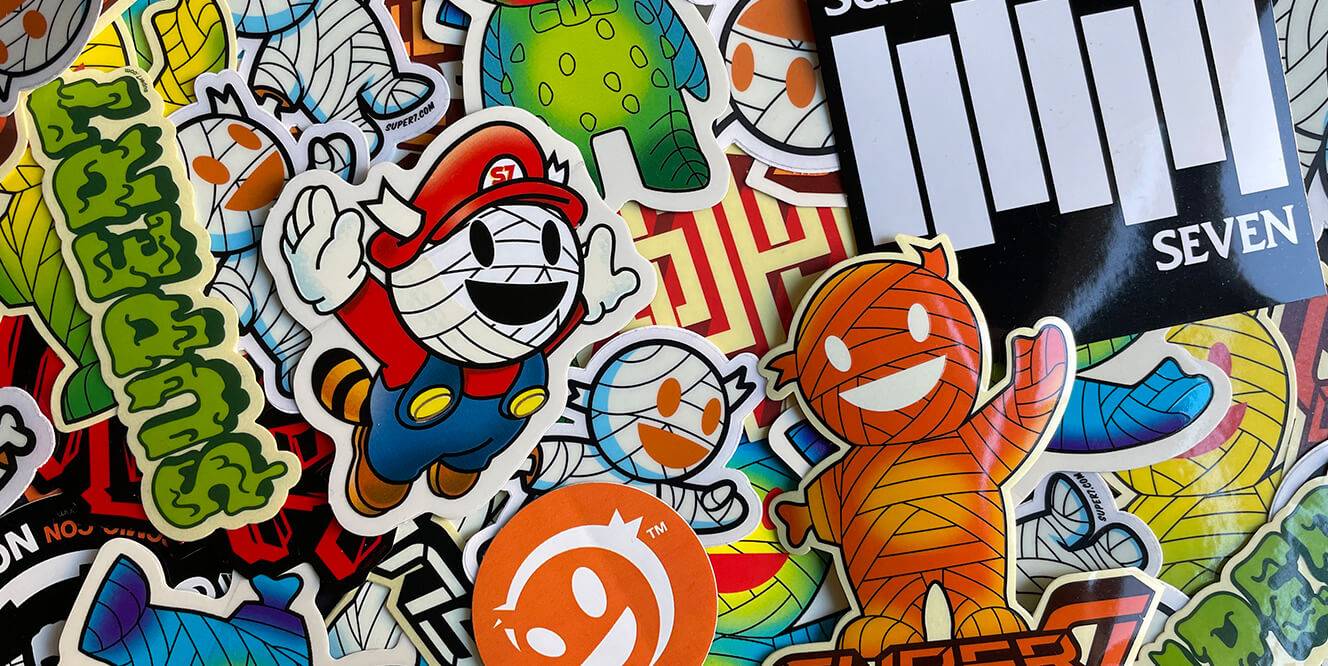 Super7 Spotlight: Tara / Mummy Boy Enthusiast™
In the beginning of Super7 back in the early-2000s, we were part of a vibrant and inspiring art scene that grew around the world of Japanese vinyl figures. Our mascot Mummy Boy was born from this scene and many of Super7's oldest friends are from those early days. One of them is Tara, who some of us here consider Super7 Fan #1!
Name and location.
Tara and the San Francisco Bay Area.
What is your earliest memory of pop culture/toys/favorite toy growing up?
Hmmm, this is a tough one, but Saturday morning cartoons and shows. My favorite toy line would be TMNT. I still have most of that collection.
How did you discover Super7?
If I recall, it was either from the Neo-Kaiju Strangeco collab or I picked up an issue of the Super7 Magazine. Fun fact: I attended the Grand Opening of the original Super7 Japantown store location (in San Francisco) in 2004.
From Tara's Collection: The Neo-Kaiju Strangeco collab from the first time Super7 attended San Diego Comic-Con in 2004.
What do you like about Super7?  
There's a lot of things that I love about Super7. It starts with the owner/founder Brian Flynn and just how he treats his customers and is very kind and approachable. The Super7 store employees, and there's so many that I remember from back in The Day, where you walk in and they know who you are and what you're there to pick up. Even today, I can walk into the Super7 San Francisco store and everyone knows who I am. Their release parties, SSSS (Super Seven Secret Society), and their annual S7 Lucky Bags which I miss. I love their products, especially their own original Japanese vinyl figures from their mascot Mummy Boy, Snakes of Infinity, Monster Family, Kandy Kaiju, Ghost Land etc... to licensed figures and to making products that no one else would make. 
What was your first Super7 purchase?
I think my first Super7 vinyl toy purchase was a 2005 SDCC pre-release Steven the Bat glow-in-the-dark figure. 
What was your latest Super7 purchase?
The Animaniacs and The Muppets ReAction Figures.
Are there any toys you are still searching for?
The SDCC 2015 Exclusive Pink Pocket Mummy Boy!
What is you favorite Super7 release?
My favorite release is the first painted glow-in-the-dark Mummy Boy Japanese Vinyl Figure from 2008 (it was the same colorway as the recent Supersize Mummy Boy).
What's your Holy Grail?
Besides the Pink Pocket bit Mummy Boy I'm still looking for any unpainted Mummy Boys that I don't have.
What is your favorite place to find toys? Online. Conventions. Stores?
The Super7 San Francisco store of course! However, it depends on what I'm looking for but the usual stops are like Target, etc... and as for conventions, it's San Diego Comic-Con and DesignerCon most of the time.
From Tara's Collection: Halloween 2007 with Super7.
What are your favorite fandoms?
I have a lot! Mummy Boy and Super7, TMNT, Ren & Stimpy, Toy Story, Pixar, and 90s Nickelodeon just to name a few.
What is your dream Super7 toy?
Giant Japanese Vinyl Mummy Boy or more variations of Mummy Boy! Like Super Mummy Boy and Basketball or Football Boy.
Is there something I didn't ask you that you would like to add?
Need more Super7 Japanese vinyl toys and more Mummy Boy apparel! Also, shout out to Brian Flynn, Josh, Luke, BLew, past employees, the store crews at
S7SF
and
S7SD
(when I stop by during Comic-Con) and of course
Skullbrain
!
Go HERE to learn more about the early days of Super7. 
Share Your Collection!
Join the community and post your photos! Maybe we will even feature you!